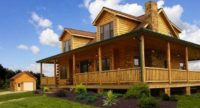 When you think of a log cabin, you think of a place families get together in the Autumn and Winter to rest and relax with one another. Surely, there are many scenarios that would work when it comes to desiring a log cabin. These cute green log cabin kits are truly special and authentic and authenticity is what a log cabin lover would search for.
It's great to live in a time when log cabins have become so popular again and you can create one from a kit. The kit houses have brought us into a new time, a new decade, where you can have the home you dream of without spending tons of money. The color is something quite special because it reminds you of nature and log cabins are normally surrounded by nature. Get that pioneer spirit and look for the log cabin kit of your dreams. There are 8 kits from which you can decide and have fun choosing with your family. You will end up with a log cabin suited for friends and family to feel comfortable and gather for fun in nature.
Check out the gallery of photos below (all images on our site are expandable, even the featured image at the top).
Find more from Cathy Schwabe Architecture, and other cabin builders we've indexed in our Home Designers and Builders Directory. You can search the company's name and look builders near your area. And to see more cabin, click here.
4076 total views, 0 today