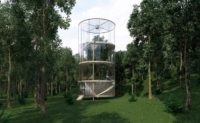 Want a full grown tree inside your house? How about four flights of stairs to walk around the tree all the way to the top?
The house was designed by Aibek Almassov, a Kazakh architect. I though about giving you guys a Pliny-esque account of how in the strange and foreign land of Kazakhstan they build in this style, but for that you might re-watch The Man Who Would Be King (although that's Kafiristan rather than Kazakhstan).
Apparently, although this glass concept house was not developed originally because funding fell through, it has a new investor — a solar panel company.
The views of this concept house are 360 degrees, as you can see, and daylight would be, it seems, more or less unmodified inside the structure. The tree would probably thrive in its warm, sunny habitat. People might invest in sleep masks, though.
What do you think of the idea of this concept house?
1067 total views, 4 today