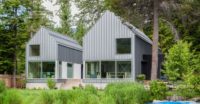 A metal house that can handle the elements, no matter what kind. That must be what this one is prepared for if its built on the Northwest Coast, where there is plenty of alternating rain, sun and snow.
This one is the work of Jeff Hill, a metal building that is clad throughout the interior in wood. It has plenty of glazing as well to take in a lot of light.
Stats:
2800 sq feet
4 bedrooms
3.5 bathrooms
2 floors.
Find more from Jeff Hill Contracting Inc., and the metal and steel design and build companies we've indexed in our Home Designers and Builders Directory. You can search the company's name and look builders near your area. And to see more metal homes, click here.
2926 total views, 0 today