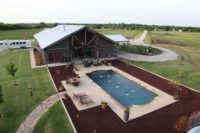 Metal homes and other metal buildings are one of the options many people consider when weighing alternative house building styles. Steel construction has a number of benefits, including economical and environmental ones, but one of the things you don't see much of with metal homes is large buildings with the comforts and amenities large homes often have, such as pools and stables, for example.
Here is a metal home that has just that, though. It's a largish design with a ranch style, suiting the location you see it on. Mueller calls this their "Choice Series."
This metal home, besides being a solid, sturdy construction, has a covered entrance / car port and a barn / stable for horses or livestock. It also has a large pool for entertainment and exercise.
The exterior finish of this metal house is gray painted cladding with a matte finish. The rust colors found elsewhere on the house lend a rustic aesthetic, combined with the metal roof clad, the deep burgundy yard around the pool and other natural tones on the homestead.
The barn / stable is also a metal building with the same matte grey painted exterior, set off against wood posts and finishing. That wood / metal contrast also appears inside the stable, where walls are wood cladded but the stables themselves are chest-high wood fences with metal grates above. They've also used some shingles and plants for rustic decor.
Matching the gravel driveway is a stone finished walkway between the pool and the stable. The pool area also has simply designed furniture and sparcely placed plants.
To see more of Mueller metal homes designs and work, find them in our directory of metal house builders.
458208 total views, 0 today