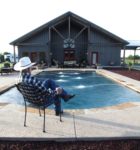 This awe-inspiring home is an amazing find for a family seeking to live the good quiet life. Though the space is large with a pool and stables, the home has the look of a warm country house that would suit even a smaller family seeking a comfortable dwelling. The epic pool is a major draw, particularly for those who enjoy socializing with family and friends.
This home is a steel building built to last through generations. It is one thing to own a home that you and your immediate family can live in and love but it is another to have a home that can be passed down through the ages. If you're seeking a property that can be a home for a lifetime, this full metal building is a great and sensible choice.
Special Features:
Walls: Charcoal
Trim: Charcoal
Roof: Galvalume Plus
Roll-up Doors: Rustic Red
Find more from Muller Inc., and the metal and steel design and build companies we've indexed in our Home Designers and Builders Directory. You can search the company's name and look builders near your area. And to see more metal homes, click here.
71714 total views, 248 today