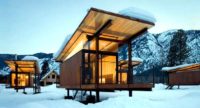 These prefab houses are perfect for backpackers, highland bikers or off-road skiers, but also for anyone who happens to be building a house in a colder region, which isn't the case for a lot of prefabricated construction — so much of it seems to be taking place in warmer climates, like in the southern states and South America. But cold climates just might have a special calling for prefab homes: because prefabs don't need to be built on site, and can save money in this way, and since many cold sites are more difficult to build at, there might be an extra benefit to going prefab. These particular amazing designs by Rolling Huts are sited in Washington's Methow Valley, and are designed by Tom Kundig of Olson Kundig Architects. These six huts are clustered as a herd — a small prefab constellation in the valley.
And as these huts are charmingly sited in the North Cascades, the are surrounded by a picturesque sight with lovely mountain panoramas, forestry and wild plants. Moreover, dwellers can revel in with various outdoor explorations even during wintertime, including, on rare occasions, the northern lights.
Residents of the prefabricated homes — these ones are currently used as cabins — can fully enjoy their stay as each hut has room enough to be furnished with a mini fridge, a microwave, a fireplace and of course, Wi-Fi. A sleeping podium is set for two people and a prefab fitting is set in the living room to accommodate more individuals for a restful night's sleep.
They're called "rolling huts." They're each 200 feet square.
According to Kundig, "Responding to the owner's need for space to house visiting friends and family, the Rolling Huts are several steps above camping, while remaining low-tech and low-impact in their design. The huts sit lightly on the site, a flood plain meadow in an alpine river valley. "
Aside from sleeping areas and furnishings, there is also an adjacent convenient lavatory. Full bathrooms and toilets are held in the main shed area that is set very close by.
And one other thing of note here. See those posts in the photo above, holding the prefab cabins up? Those have wheels at the base of each, so these units can be rolled around to re-arrange them or even move them a ways off.
Overall, these delightful huts are indeed meant to provide good living experiences particularly for lovers of highland settings.
To see more of Olson Kundig Architects, find him in our directory.
1683 total views, 0 today