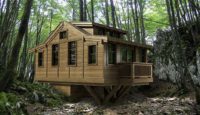 A prefab house is something a lot of people out there are thinking about these days, mostly in an effort to economize on price, but also because it means they can move their structure when they want to a lot more easily, and if their house is a bigger one, they can use modular building for their prefab home to transport it in pieces. Here, though, is a comfortable looking cabin style prefab house.
It's called the Lopez Pod and it's 372 square feet, so this prefab house also qualifies as a tiny home. It's a 1 bedroom, 1 bathroom, one story house that arrives and is set up as a complete module.
"Building a home or even a small accessory structure is a team process that in some cases is as simple as providing a local builder a set of prescriptive plans," according to Green Pod Development.
Of course when building a house, even a prefab home, people need to check with the city to make sure their building matches codes. This company does that in two ways: first, they build according to a standard set of codes that are widely used. Then they check with a person's builder themselves to make sure the design will work in that location.
"In other cases it is more complex.  Your building department may have a more stringent review process and/or submittal requirements.  We design our pods utilizing the International Residential Code (IRC) which is accepted in most jurisdictions throughout the US and even abroad.  However, most jurisdictions have their own addenda to the codes.  For the 'Permit Plans' listed above we will need to review these in order to fully satisfy your particular requirements.  Typically a discussion with your builder and the permit department or on-line review of their application will suffice. "
For more info on Greenpod Development, find them in our directory.

1215 total views, 0 today