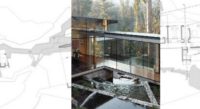 One of the most attractive things about a prefab home is the setting. Of course, that's true of any dwelling, but the unique thing about modular construction is, of course, the setting can change. Because prefab homes can be placed on simple leveling and blocking, they can be moved and leave very little behind them.
One company that uses a lot of glass in their house designs — both modular and traditional — in order to maximize the view of nature from inside, is Schmidt Architects (Schmidt Arquitectos Asociados).
Perhaps they are currently most famous for their use of glass corridors like the one they build in the Lo Curro which has caught many people's attention.
While the expense of heating a structure surrounded by so much glass would probably deter most prefab home buyers in Canada and the northern states of the U.S., there are alternatives to add this kind of feature to your own prefab home design — and they don't need to be expensive.
We're focusing on how people can get into their own inexpensive homes right now on the Building Homes and Living blog, so for those people wanting to add something like what Schmidt does with views and corridors, here are two options: First, there is no need for that glass corridor to be open to the rooms on both sides. The glass corridor could be sealed off from them by doors of various types, so you wouldn't need to heat the corridor. A second option is to not use glass at all, and just have a walkway between parts of the house or between parts of your modular home and another structure, like a garage. To see more of Schmidt team's designs, find them in our prefab and modular homes directory.
111 total views, 0 today