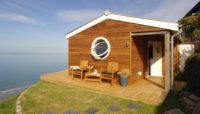 Prefab home buyers can put their houses anywhere they have a spot, more or less. There are prefab house designs to sit on cliffs, on stilts sticking out of the water, on houseboats, and, like this one in the picture above, on the coast of the ocean or a lake.
This small prefab home — cottage actually — sits overlooking the Atlantic Ocean in Cornwall. Some might say that you could put just about anything in that spot and you'd have a nice place. I think I might have to agree with that notion. However, there are special considerations when building on the coast of an ocean (like this one) or even a lake if its a decent-sized lake. The main one: wind.
You can't just put in any old door, and any old wall construction when you have huge winds. And there are some big winds on both sides of the Atlantic. Some modular home builders, cabin owners, and other home owners, start with a simple door facing their view (the ocean), but after a few seasons decide to take out their first door and put in a side door instead — sometimes with a metal screen that can be placed over the door for extra protection in storms.
The picture above shows a small cottage typical in style for Cornwall. It's an E.D.G.E. modular structure (a design by Bill Yudchitz and Revelations Architects/Builders which aims at environmental / energy-effecient living arrangements). We have another one here (click here).
The one-story construction is also a good idea when facing a coast, for the same reason of wind. They use shallow pitched roofs in this E.D.G.E prefab, and the inside is based around a kitchen, living room, entry and bedroom. There is also that porch you see in the photo, and there's a bathroom tucked in there.
And who didn't notice that round, swiveling window?
The company is selling plans for this building for around $1,250. Visit Revaltions Architects/Builders here. Photos by Unique Home Stays (click here). You can also get a bunch of ideas for your prefab structure — exterior images, layout plans, and links to companies in various states and provinces — from the Prefab Home Book (sometimes on sale).
380 total views, 0 today