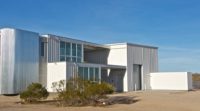 This is an amazing version of how to use shipping containers in house design.
The project is signed by the architects of Ecotech Design and is located in the Mojave Desert, California. Six containers totaling 220 square meters.
This shipping container house is what the designers refer to as a "prototype hybrid house."
"The residence is a prototype of 2nd generation pre-fab design and a kit-like housing product. It is constructed from 5-20′ long recycled cargo containers that were fabricated and finished in Los Angeles and then shipped to the site where they were erected and stacked 2 high in 15 minutes each. All site work, including foundations and utility placement was constructed at the remote desert site during container fabrication in Los Angeles.
"The residence is the 1 bedroom, 1-1/2 bath, 2 story model hybridhouse_1 design that has been adapted for a media client who required a separate photo studio and storage building. The studio is constructed of a Butler pre-engineered steel building with plug-in cargo container storage. It is naturally daylite with 22″ dia. Solutubes, which can be manually controlled and temperature balanced using efficient, dimmable strip lighting.
"The container residence and the pre-engineered, steel studio structure act as two bookends that support framing and, in turn a perforated metal shade canopy that wraps the container's roof, south-facing steel walls and the dramatic 20′ high outside living space, aka solar breezeway to provide protection against desert heat, glare, wind and blowing sand. The breezeway, in turn moderates and then directs a flow of air through the container spaces to enhance passive cooling. A naturally lit, steel-clad stair structure connects the 2 level stacked containers and doubles as a 20′ story high photo gallery in which to display artwork."
For more work by Ecotech Design, find them in our shipping container house builders and designers directory.

2357 total views, 1 today