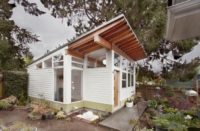 Design can play a significant role in the overall impression of a tiny house or other tiny structure. In this case this tiny house building is a studio — it's outfitted with couches instead of beds, but there is any number of possibilities for how the interior of these tiny dwellings are finished.
This one is called "Orchid Studio" and it's by design team First Lamp. It's an outbuilding — it's not attached to the main house structure. It could be used just as easily as a guest house or reading room.
The team was brought into this project in order to get a nice design for the tiny house-style one-room building. And it does serve as a guest house if needed.
It's connected to the main house by a diagonal path through the backyard garden to the corner of the yard where they situated the tiny dwelling.
The budget on this project was limited, which limited the amount of bells and whistles added to the basic tiny structure. One thing unusual was the use of Douglas Fir for the rafters, which were left exposed to provide an eventually-red wood accent to the white walls and siding outside.
Photos by: First Lamp. For more of First Lamp's work, find them in our directory of tiny home builders.

5688 total views, 3 today