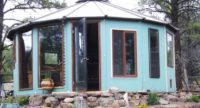 Since the tiny house movement has grown, you can find tiny homes in all price ranges, from budget homes under 20k to luxury homes up to a million dollars. Of course, the more expensive homes are designed for those who have the monetary means to use luxury products in their planning and building. This is not the majority however, most people want to spend the least amount of money possible, because the reason many people are choosing tiny homes is to downsize their lives, therefore downsizing their budget. As opposed to average homes, you can have just about every amenity you want in a tiny house and not have to break the bank. Even a tiny home that costs 40k is still quite a bargain for a family that downsized from a two-story house. In many areas, the average family house is at least a quarter of a million dollars and up. So anything under 100k is like a home buyer's dream.
Since all kinds of people, from singles to couples with 2-3 kids, are looking for tiny homes to downsize, the costs vary as much as the home buyers do. What is expensive for one person, is a steal for another and vice versa. The tiny home is not for everyone. Most homes are anywhere from 100-400 sq. feet, so you do need a buyer who knows how to let go of many material items and one who is able to be happy living in such small quarters. Though tiny homes are just that, tiny; designers and builders have found innovative ways to get storage, bedrooms, and upscale kitchens into 300 sq. feet of space. But it's not always easy to think in those terms when you are the buyer and not the builder. The builder knows how to rearrange what you need so that it does not take up too much floor space, but instead uses the ceiling and wall space instead.
The tiny house movement is growing so quickly that many lenders, architects and home designers are getting into the act by assisting with providing their talents and skills to the tiny house nation. Below, we share with you 8 tiny houses that most people who are downsizing, can actually afford. They are all different so you can see the diversity in style and vary in price. However, the average person considering a tiny home will be greatly inspired by this gallery. All of these homes are well under 40k, many re aunder 25k. These are the kinds of prices that will motivate you to solidify your decision to become a tiny house owner.
3976 total views, 1 today