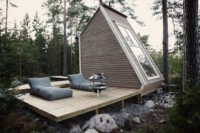 How about this tiny house in the forest. The designer himself built it for around $10,500. That's the cost of the materials for this tiny cabin in the woods, and since he did it all himself — he carried the building materials in by hand — he saved on construction costs. The house is called Nido (Italian for 'birds nest'), and the materials are all recycled: an eco tiny house in the forest.
Here's what the designer wrote of his tiny house project:
"In 2010 I wanted to build a place of my own. I found this beautiful slot and I set out to design a compact get-away for myself. I also wanted to maximize this small space, use local/recycled materials and build it myself.
"In june that summer I started building my cabin. It took me two weeks to build it (only thing missing was the door and window which arrived a week later)."
The tiny house has a micro-kitchen on the first floor, as well as a tiny home-sized lounging area.
The second story of the tiny house is where the sleeping area is situated, and there is some storage space there as well. You can see from the picture above that there is a lot of glazing on this little cabin and that lets in a fair amount of light. For more tiny house designs, or to see more of Robin Falks work, find them in the directory.
Photographs by the designer: © Robin Falck
15571 total views, 0 today