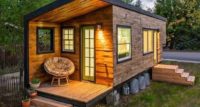 Yes, this tiny house was made using a lot of wood pallets. And yes, pallet-based construction is a way to save money when building, so long as it suits what you want to build.
This tiny house — its actually a trailer as well, as you can probably see from the image above — was designed and built by architectural intern Macy Miller.
It's a 192 square foot house set up in Boise, Idaho. The siding is where the wood pallets come in.
That's where another aspect of eco-friendly tiny house building comes in, as well. Repurposed building materials is one of the basics of this particular movement, when it comes to prefab houses, modular buildings, and tiny houses like this one.
Miller started building her 196 square foot tiny home in 2011, and she moved into it with her boyfriend and their children.
Besides the wood siding, possibly the most noticeable feature of this modular prefab house — she built it on another site and moved it to this foresty location on a trailer bed — is that porch, which, combined with the single-pitched roof, gives the otherwise square prefab home structure its individual look.
While Miller is herself an architect, these things aren't that difficult to build, and a huge variety of prefab home building plans are available for them all over the internet. To see more of Miller's work, click here.
1986 total views, 0 today