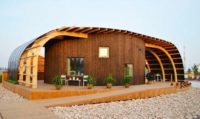 Definitely, there are several cool and attractive tiny homes being built these days. But what makes it remarkable is when young creators make their ideas into reality. And if students can build a tiny house, why couldn't you? This adorable 645 square foot passive house was built by 25 students of Chalmers University of Technology in Sweden. These smart and creative youngsters have put their brains and hands together to come up with a beautiful micro-dwelling that inspires us to make one ourselves.
And what makes this tiny home more exceptional is that it is eco-friendly. With its Halo's passivity — which means it can generate more than energy that it uses — this homey dwelling is significantly environment-conscious. Great thanks to its curving roof which is built with monocrystalline silicon photovoltaic solar cells on acrylic. This solar cells utilizes the sun's energy to provide power to its private rooms and to its big communal areas. Locally-sourced woods cover its interiors and its Scandinavian furnishings are light-colored and simply cool.
So with this tiny home living space, you can enjoy creating good memories with family and friends. It saves you also from too much cleaning as there is less clutter and less upkeep and significantly less carbon-footprint as your dwelling runs off clean energy because it is solar-powered.
And if you are set to start the ball rolling on your small dwelling, remember some eco-house features such as solar power, sourced-locally woods for its interiors, energy-efficient lighting for the rooms, fresh air ventilation system for the whole house, rainwater collection in the yard, and one other important thing is to use energy star appliances.
With these eco-features and ideas of this group of inspiring students from Chalmers University of Technology, surely you are now more confident that you can also make your own tiny house — or maybe its a prefab or modular house you're thinking about. Who knows: you might inspire friends to be more environment-conscious and live in a more sustainable dwelling.
11930 total views, 0 today