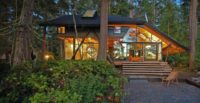 This tiny house is an eco-cabin of glass. It has a funny name, but it was designed for a serious purpose.
It's called Sneeoosh Cabin, and the tiny home is designed by ZeroPlus Architects. And due to environmental concerns, it is designed to have as small an impact on its surroundings as possible.
You see it's nestled into the forest of Puget Sound in Washington State. The tiny house sits on stilts above the ground.
That way, shrubs and other plants can still grow underneith the tiny home structure. The design team came up with the plan working with an arborist. Not only the trees already growing underneigth, but even the roots structures were things the designers didn't want to distrub.
The stilts of the tiny house stand on concrete disks, desinged to be minimally intrusive on the forest.
The sleeping area in this glass tiny cabin is above the main level. It's darker than the rest of the house, and was inspired by tent camping. The downstairs is the public living space, and the windows around it provide an open sense.
Construction was based on prefabricated, lightweight steel. Tension plays a significant part in the way the tiny house is supported. The roof is constructed of prefab sips — insulation and protection from the elements with relatively little weight. See more of ZeroPlus's tiny home and prefab home designs by visiting our directory (click here).
56 total views, 0 today