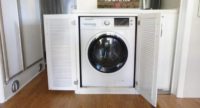 Many, many more people are simplifying their lives and downsizing their living spaces these days. Living large has become too costly and overwhelming, as well as cluttered, and folks are longing for a cleaner and more organized look – one where items,  furniture and appliances do double duty. The Tiny House movement epitomizes this trend and apartment and smaller homes dwellers have learned a lot from the tiny house.
Hidden sliding shelving in that crack between your fridge and the wall, houses a spice rack, corner nooks, beds that also serve as seating areas, pots, pans,and cooking utensils hanging on a wall pegboard, all these things, exploit the space in a small space, and make it appear that there is more room than there actually is. Using storage shelves around your toilet can contain towels, toilet tissue, and other bathroom items that might otherwise take up unnecessary space that could be better utilized.
The washer-dryer in the featured image does double duty and frees up space for shelves, counter space and the like. Drawers tucked away under sofas and beds add additional storage and another kind of aesthetic to a room. The dining table with chairs that disappear under it is both clever and efficiently space saving.
The hidden trash bin next to the cooking range, keeps your kitchen looking clean and organized. There are so many different ways to enhance and expand your small space so that you don't feel cramped or crowded. And you and your family can move from one area of your small space to another with ease and efficiency. Your small living space need not seem claustrophobic if you use your imagination and a little creativity.
The images below and resource material are courtesy of Pinterest. Images can be enlarged for better viewing.
3018 total views, 2 today