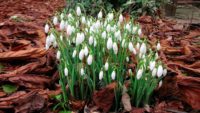 Even if your garden is buried under a thick layer of ice and snow, it can still shine during the winter!
A garden with solid "bones" will look good all year 'round. The shape of the hedges, the graceful arching of tree branches, or the pop of color from persistent fruit such as ornamental crabapples or mountain ash, all create a multitude of appealing shapes, forms, and textures. Bark color is important as well: think of the brilliant yellows or reds of dogwoods. Include some conifers in your garden landscape for the texture and year 'round foliage – and don't forget that not all conifers are green. Look for yellow junipers, or blue spruce. When selecting trees and shrubs for your garden, don't simply focus on the beauty they bring during the growing season. When they are dormant, they can lend important structure to the landscape.
Although many gardeners perform a fall clean up before the snow flies, it may be desirable to leave some plants intact. Beautiful seed heads from herbaceous perennials and graceful ornamental grasses look spectacular with a dusting of snow. As an added bonus, trapping some snow in the base of the plants will help insulate the plants from severe weather.
Hardscaping materials are important, too: when shopping or designing pergolas and trellises, consider how they will look in the wintertime, when the rest of the garden is covered in snow and these important elements stand out and make a statement. Even the garden gate and decorative fenceposts can make a difference.
Whether you gaze out at your garden from the inside of your house, or from the driveway or walkway out front, you should enjoy the view in the winter almost as much as you do in the summer. If you notice some way to make an improvement for the following year, jot your ideas down and take your list into the garden centre in the spring.
By Sheryl Normandeau