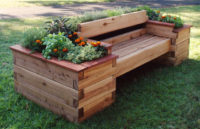 Every once in a while, we come across a unique or unusual idea that might interest people for their own homes and gardens, so we thought we'd put a page together for these here. We'll update this page as we go, so if you like the things on it, you might want to bookmark this page and check back in a few weeks or a month or something.
Here are some DIY raised garden beds. One of them is actually a bench / raised garden:
Swedish Fire Torch Log Grill. The flat, stable cooking surface directs heat into pots or pans, which reduces heating time. Cook for large groups like scout troops, hunting parties, or family gatherings without the need to continuously feed a fire. The MITI-001 is just as effective as a large wood or gas stoves when it comes to heat and efficiency.
Rechargeable Bug Vacuum Spider Catcher, powered by a built-in rechargeable Battery, already installed in the device, charged with a USB cable which is included in the package. ★Eco-friendly, non-toxic, humane and chemical free.
Portable woodburning stove, heats up tents, yurts & tiny homes
30658 total views, 4 today