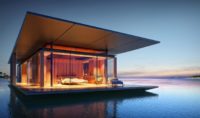 Prefab home buyers or shoppers don't all already have a plot of land where they can put their prefab house. What about the water? There are different rules for what you can anchor down off the coast depending on region and what you want to put there. For example, in Canada we can put down a permanent mooring in most places around our coasts and tie our boat there.
What about putting a prefab house (pretty much a house boat but the prefab home builders who design these don't think about them as being house boats) on a permanent mooring?
This prefab house design (pictured above) was built by a Paris company, H2orizon, and was designed by Dymitr Malcew. They consider it to be "a floating house."
The basic construction is of wood and glass. The ceiling and floor are very similar, and all placed upon a buoyant platform. Special considerations are made in the prefab house design because the floating home is expected to move with the water, unevenly. Part of this is solved by the glass curtain walls.
As you can see from the photographs, using this prefab house design would mean you would have a lot of light flooding the interior of the building, and, unless you were near a mountain, it would be all day long (rather than getting a certain amount of shade from nearby trees as is the case on land). On the other hand, though, you could move this modular house from place to place, towed by another boat or shipped overland on trucks or trains, as is the case with most prefabricated homes.
To see more from Dymitr Malcew, find him in our Prefab Home Designers Directory.
3215 total views, 1 today