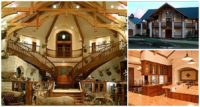 As we've been looking a bit into a house plan company that has cabins and tiny houses, as well as metal buildings — things we've been focusing on quite a bit here — we also noticed this large three-bedroom house plan, and of course what makes it stand out is that amazing interior space created with its rounded far walls, its scaffold-like roof beams and crossmembers, its double curved staircase, and the general rustic appearance of the interior.
The house specs for this home design are as follows:
3 Bedrooms
3.5 Baths
Trophy Room
Entertainment Areas
Beverage Bar
Office
Fireplace
Double Staircase to Second Level
Storage Areas
Balconies
Galleries
Courtyard
Outdoor Living
Covered Porches
2 Car Garage w/Golf Cart Space
There are low-resolution photos of the house plan as well. However, for the full-res plans you will be required to talk to the home designers and find out what their plans cost.
For more about Texas Home Plans, find them in our metal buildings directory. Their average price seems to have been estimated around $40 – $130 per square foot. Or to read more about their process when it comes to metal homes, tiny homes, or whatever else, click here.