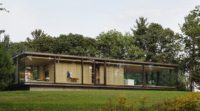 This guest house, designed by Desai / Chia Architecture, has no less than 185m² of comfort and luxury — by no means a tiny house like we usually talk about, but sometimes you have to look at things outside the box to better understand what can be done within the box.
It was designed to be a retreat for late visitors weekend, which may include the nature, especially the beautiful lake right in front of the house. This guesthouse is not only comfortable and luxurious, but also has a number of features that take sustainability into account, such as heating and geothermal cooling, natural ventilation, solar panels and collects rainwater for irrigation water.
The structure of the house is based on four steel columns, embedded in the wood core, and uses the least possible amount of material to build spacious living areas throughout the house, which can accommodate six people comfortably. A couple can stay in the master bedroom and the other four guests can sleep in bunk beds built next to the walls.
One of the most interesting features of this home is the air conditioning by radiation made by the floors. The concept of radiant systems has a simple principle: the surfaces have the ability to exchange heat or cold radiation to the environment. The system ensures a balance in a sustainable manner temperature.
This is not a very common practice in Brazil, but it is good to know that there is such a choice, because the radiant system can both heat and cool environments. If you are looking for more inspiration for guest house, you can take a look at this house made with a recycled shipping container .
This is also a prefab house — and a modular one. The entire glass assembly was prefabricated off-site, shipped to the site in one container, and erected by crane in 2 days.
Photos: Paul Warchol. For more info on Desai / Chia Architecture, find them in our directory.
2795 total views, 1 today