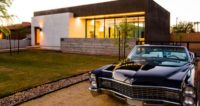 Link is a lovely single-family dwelling. It is sited on an unoccupied space in a historic neighborhood in Phoenix. It is positioned 1000 feet from the light rail station at 7th Avenue and Camelback Road. This makes it perfectly set in the center of the city. This 2050 square foot home consists of 3 bedrooms and 2 bathrooms.
Impressively, this beautiful abode is planned to provide stylishness and grace of the city with its telescoping glass walls. Dwellers can have an extension of their living space outdoors and use it as porch for social gatherings. The dining area of the house can also be altered as an open-air picnic tent for enjoyable get-together of family and friends. There are also storages for orderly upkeep of stuff.
This house is extraordinarily constructed for energy efficiency for it has passive solar, cross air circulation, LED illumination and innovative framing structure. Overall, dwellers of Link House will surely have a fantastic stay for is created for less carbon footprint without sacrificing its aesthetics.
To see more of The Ranch Mine Architects, find them in our directory.
1159 total views, 1 today