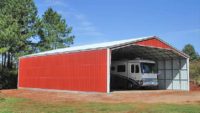 Just recently saw this new one by a company we've featured here on Building Homes and Living a few times, Choice Metal Buildings, and since it was a pretty nice one, thought I'd share their info on it. You can find them, as always, in our directory of metal home builders and designers.
Here is an example of our 40′ x 61′ x 12′ Structure. It comes standard with Double Base-rails, Double Legs, Industrial Strength Truss', Vertical Roof System, All Vertical Paneling, 20 Year Rust Through Warranty, 130mph/30psf Engineer Certified, Drawings Included! Delivered & Installed for $22,905.00! (Plus Local Tax.)
Give us a call today and a Building Rep can explain how everything works. Place your Deposit and have your Structure in a few weeks! 877-422-1812.
(Please call to confirm Price & Availability, 877-422-1812.)
1845 total views, 1 today