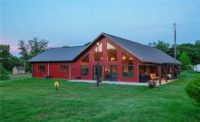 Here's a metal building that was built recently — a high-ceiling-ed family house that was put up in Illinois by Morton.
It's a Hi-Rib steel structure with a porch and wainscotting, and also uses the company's "Energy Performer Insulation Package." Set in a flat area with an expansive grass lawn, the building uses the peaked roof to create an impressive living room glassed wall looking out onto the back yard, and has a cosy outdoor seating area under the one side of the roof.
Inside, they've painted the house in bright, warm oranges and wood finishes. Even the stone tiles match this natural hue theme.
Morton is a company that has won awards for its building, specializing in steel frame building methods. They describe the advantages of steel frame this way:
"A post-frame building has thicker wall cavities than steel-frame buildings, creating a larger space for insulation and controlling energy costs 12 months out of the year. In the places where the insulation is interrupted – triple-laminated columns – post-frame buildings have natural insulating properties and conduct less heat than most steel-frame buildings.
"Additionally, post-frame buildings include an attic, allowing for more effective ceiling insulation, enhanced air circulation and condensation control. In a standard steel-frame building, insulation is draped over roof purlins and compressed when the roofing is applied, resulting in the loss of nearly half of the thickness of the insulation."
However, they still recommend that any metal building customer still know their options for the house design they pick and how post-frame and steel frame building styles would each play out.
Specifications: 30'W x 8'9″H x 78'L + 30'W 8'9″H x 32'L. Estimated price for Morton steel buildings is around $25 – 80 per square foot. For more of Morton Buildings, find them in our metal homes builders directory.
12516 total views, 2 today