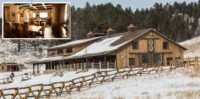 Many people think about having a house out on a farm, and some of us already live out on farms and ranches or large pieces of land. Barn houses and metal homes both are seeing something of a surge of interest lately. Metal homes as an alternative building method that allows for inexpensive, strong and durable buildings that can also be reused, recycled or modified later on, and barn homes are a traditional style of building people are liking for their own homes.
Here we have a combination of both, and not only that, they added wood and stone work to create a livable space that might catch some eyes. The metal barn home here is designed and built by a company we've featured a number of times here on our site: Morton metal buildings — they do a number of different building types. And the job they've carried off here is one that I think will catch a lot of attention: a traditional rustic-style farm house that combines residential with equestrian areas.
You can see from the photo above and those below (all the photos on our website expand when you click them) that the interior of this metal building home is also a comfortable, traditional style. You can see that they've covered most of the building in wood cladding and some of it in stone work, including that outdoor seating area in the photo. But looking at the interior shots, I think a lot of you might agree that the interior work on this ranch house metal home is the real star of this construction project.
Some more information about this metal building:
Project Number: B066037669
Location: Pringle, SD
Dimensions: 46'W x 12'H x 105'L
This home/stall barn was built for Kerry & Dr. Lew in Pringle, SD
Special Features:
Morton's Hi-Rib Steel
Cupolas
Wood Siding
Diamond 'M' Sliding Doors
Loft Door
Morton's Energy Performer Insulation Package
Find more from Morton steel buildings, and the metal and steel design and build companies we've indexed in our Home Designers and Builders Directory. You can search the company's name and look builders near your area. And to see more metal homes, click here.
7991 total views, 1 today