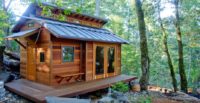 Many people are finally letting go of what we sometimes call "The American Dream": A marriage, two and a half kids, a dog, a good paying job, and a nice big house. And the accumulation of "stuff" has been at the forefront of this myth. For these folks a more minimal, manageable life holds a big attraction. Enter the tiny house.
Once the province of the retired, like RV living, more and more Americans are opting for the tiny life. Many of these tiny houses are built to be mobile so that its inhabitants can visit places of interest, and live on the road. For those of you who work and can do so remotely, but still wish to downsize your living space, the tiny house is an ideal option.
Lots of people take it on themselves to get their hands dirty and build their own tiny houses. An Alliance of professional builders promoted the use of ethical building practices and guidelines and this was carried on by the American Tiny House Association, which deals with issues of zoning and coding.
Tiny houses can be as small as 120 square feet and as large as 500 square feet, and still be considered a tiny house.
Benefits of Tiny House Living
You can divest yourself of unused and useless "stuff". There are so many things humans can really do without – you'd be amazed at how much clutter we can get rid of and still be happy.
The cost of living in a tiny house is much more reasonable than living in a large house. Utilities are all less, and you spend much less time cleaning and maintaining your tiny house. And buying or building your own tiny house costs but a fraction of what living large does. You no longer need to live paycheck to paycheck with an exorbitant mortgage.
Tiny living forces you to be organized with the things you choose to keep in your tiny house, and therefore is more efficient.
For those who wish to "live green" the tiny house is just the ticket. You can use water collection tanks, wind turbines, and solar energy to power your tiny house and in the long run save thousands of dollars in electrical bills.
Self-sufficiency is another big reason that people opt for the tiny house. Especially if your tiny house is mobile, you can pick up and go whenever you please.
Many cities across the country are providing zoning regulations for tiny house communities, and you can actually live tiiny in a real neighborhood.
The above photograph is a wonderful example of how you can compact your life and still have all the comforts of home.
Living the tiny house lifestyle isn't for everyone, but if you are ready for letting go of the "I need my stuff" syndrome, it may be just the thing for you.
Sources: 3 Tiny Houses That Let You Live Green-And Off The Grid, What is the Tiny House Movement?
Photo credits: Benjamin Chin, Google Images
Click here for a bigger gallery of a bunch of various tiny homes.
7551 total views, 10 today