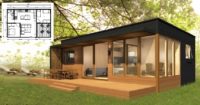 Have you thought about a prefab home or even a prefab cottage? Modular construction has recently become mainstream with evening TV programs dedicated to it and lots of people talking about the buzz-words: prefabrication, tiny homes, modular building. Considering the cost and benefits of prefab houses, they can definitely be a good option, as many have found.
This one is by Sustain Design Studio. They have designed a number of modular homes, some with various options depending on the size a customer is looking for, whether they want a loft, whether there will be a foundation or not, and other building considerations.
The modular company uses wood frame construction on a structural steel chassis, and the exterior of the building is a pre-finished pine or Douglas Fir wood one.
For insulation, they use a polyurethane foam of medium density with a BASF Wallite spray.
Hot water is provided in these prefab homes by electric boilers combined with energy recovery ventillators, with the option of a pellet stove or propane boiler — these additions are favored by some people because they give the house that cabin feel.
While these modular homes don't require a permanent foundation — instead they can be placed on simple leveling and blocking — a concrete foundation or pad are options.
Pictured: the Duo 36+24 by Sustain. Visit them, find them in our prefab and modular homes directory.
7097 total views, 1 today