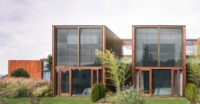 Cargo container houses have a strong appeal to home buyers who are eco-conscious and those who yearn for a more sustainable abode. Shipping container homes can also be built easily and are delivered ready-made to your vacant lot once the builder has set up your chosen design and layout and constructed the unit.
Millbrook House is another fantastic creation by Robert Bump Construction. This 6,600 feet square shipping home is exquisitely designed by architect Thomas Phifer. Its distinct geometric style is structured with a beautiful landscape and fascinating views around its surroundings.
Upon entering the interior of the house, residents can experience how impressive the communal area. The living area offers a good spot for full panoramic views. Every corner of the house demonstrates real class and elegant architectural design. The high ceilings also add value to this shipping container home. Each mahogany box is partially set in the inclined ground, forming a private compartment intended for sleeping area. Residents are also assured to enjoy their meals in the dining space.
Also, there is a functional kitchen for family's pantry necessities and undertakings.
Without a doubt, Millbrook House can satisfy a choosy home buyer because its deep red, patinated steel boards beautifully form a retentive wall. To see more of Thomas Phifer and Partners, find them in our directory.

3885 total views, 2 today