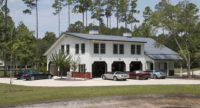 Could you live in a metal house if it was by a little lake like this one in the country-side, or would you set up a garage by your pool like this one, or maybe a guest house? This is one of the cabana-purposed metal building houses being made by Morton Steel buildings these days, although these buildings can be adapted to residential, office, garage or whatever purpose — pool house maybe? — when they're ordered and designed. It caught our attention, so we thought we'd share it.
I've never considered building a cabana building, but this design would also make a pretty decent metal building home, I think, or maybe even a stylish garage? Maybe with a guest house floor up top?
There's lots of pictures of this one!
Some more information about this metal building:
Project Number:B143022978 + B143025182
Location:St. Johns, FL
Dimensions: 40'W x 12'H x 60'L + 24'W x 9'H x 12'L
This hobby garage & cabana was built for Fernando of St. Johns, FL
Special Features:
Morton's Hi-Rib Steel
Cupolas
Porch
Eyebrow Overhang
Double Dutch Doors
Wainscot
Morton's Energy Performer insulation Package
Find more from Morton steel buildings, and the metal and steel design and build companies we've indexed in our Home Designers and Builders Directory. You can search the company's name and look builders near your area. And to see more metal homes, click here.
2607 total views, 0 today