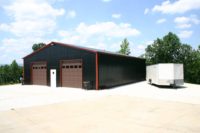 Just recently saw this new one by a company we've featured here on Building Homes and Living a few times, Choice Metal Buildings, and since it was a pretty nice one, thought I'd share their info on it. You can find them, as always, in our directory of metal home builders and designers.
Here is the "Man Cave" you have been waiting for!! Order now with a deposit of $3,136.00!! The balance is due at Delivery & Install or we can Finance it for you!! Give us a call @ 877-422-1812.
** Engineer Certified ** Will meet or exceed any local code!
40′ x 41′ A-Frame Vertical Roof Garage
12′ Side Wall Height (All Vertical Paneling)
(2) 10′ x 10′ Garage Doors
(1) 36″ x 80″ Walk-In Door (With or Without Window)
$19,600.00 Delivered & Installed!! Plus your local tax.
(Please call to confirm price and availability, 877-422-1812)

2493 total views, 1 today