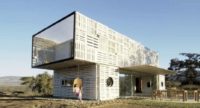 This prefab house might be of interest to those of you out there who are looking to build a decent sized dwelling with a small budget. They reduced building costs by using shipping containers and pallets in their prefab home design.
Two shipping containers, each 40 feet in length, plus two shipping containers 20 feet in length, are the structural basis for this modular house. They used wooden pallets to clad the exterior, which can be seen as a style element, but it also keeps this prefab house cool in the sun. Since its built in Curacavi, Chile, heat is a consideration.
Another part of creating cooler temperature spaces for the modular construction is the shady areas, which of course are cooled naturally by the movement of air. It moves freely because the design leaves spaces between the pallet slats.
The shipping container-based areas provide the security and protection from weather the home owners wanted in other parts of the house — plus the metal containers provide the structural strength needed to keep the house standing up.
Other spaces are modifiable. Sections of wall can be slid open and closed to ventilate or protect those areas. The folding screen on the porch serves a similar task.
Heating and cooling is also provided by geothermal heat pumps in this prefab house.
The work is by James&Mau. You can see more of their work by visiting them at our director y of prefab and modular home designers and builders (click here).
5508 total views, 0 today