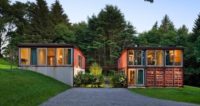 Are you already interested in building with shipping containers, and now you're looking for unique style elements for your new house using this style of building? Do you want something unconventional, more affordable, yet more cost efficient as well as being able to build faster? If your answer is yes, then you may want to explore the possibilities of having your own shipping container pool.
Shipping container construction is one of the leading alternatives in architecture these days. Used shipping containers can be used to build not only as homes but also offices and even — like the photo above — swimming pools!
Using metal shipping containers for your house will make the construction of your house faster since you already have the walls and you will just need to add divisions, connections, and style for your new home. It is very cost efficient since you don't need to spend thousand of dollars for the new materials — timber, nails, concrete — for construction of your house. In addition, your labor cost will be minimized.
It will also help to have less waste in the construction of your house since less raw materials will be used. This means that waste management problems or concerns will be lessened while your new house is being built.
Shipping containers structures can be designed based on your needs. They can be made waterproof by doing different methods such as fixing the interior and exterior lining. They can also be made weatherproof against cold depending on the kind of weather and temperature you have in your selected site.
Shipping containers are a very unique way to take building inexpensively to the next level. You can have the style you want incorporated into your house with lesser costs and worries. You just need to discuss your preferences and what are the different modifications and refurbishment options with shipping container professionals — or, you could always do the research yourself and become an expert.
Moreover, they can also be used as a swimming pools if you want one in your house. They can definitely add more style to your new house by using glass panels or stylish wood trimming.
Shipping containers are one of the best options you can have for your new house if you want a more affordable option, if you want the construction to be faster and efficient, and if you want a more unique and stylish home. It is a perfect choice for those who don't want to spend thousand of dollars while getting the best for their own house. One good source of information (where you can buy these bins if you are in Australia) is Premier Box (click here).
6563 total views, 341 today