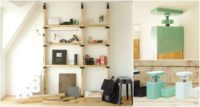 Have you ever wanted to set up shelves in your house, garage, or outdoor space, but not had the right size of shelves to put in? Shelves can be expensive when you have to find a particular size or type. Now, there's a product called the "2×4 ADJUSTER" which makes it so you can set up DIY ceiling height shelves (or shelves spanning the distance between a table, kitchen island, or other surface and the ceiling) with just 2×4 boards. You don't even need nails or screws that make holes in your walls (there are extra pieces though, which do require screws or nails, but those nails just go into the 2x4s, not into your walls, ceiling or floor).
The product is by Heian Shindo Kogyo company of Japan, and it just won an award from the Good Design Award organization for the category of "Household goods and daily necessities."
Simple living? Yes, it fits into the category of making your home simpler, easier, and more mobile — you can remove your shelves very easily and re-use the materials in any number of other ways, whether to set up another set of shelves in another location in your house, another house, or store your 2x4s in your garage to use later.
According to Good Design, "This 2×4 ADJUSTER is a DIY part which can be used even in a rental apartment. You can vertically stretch a piece of two-by-four (38x89mm) between the floor and the ceiling by using this item. As nails or screws are not used, the damage to the floor and the ceiling can be avoided. This item was developed to continue to be used as easy & safe DIY products for women & family.
"Also, in set with this 2×4 ADJUSTER, you can make shelves or partitions of your favorite size / The functionality as a top market share maker in Japan and the stylish design fit in life are the feature of this product."
Gallery of great images shows the various ways these DIY shelves out of 3x4s can work:
5851 total views, 3 today