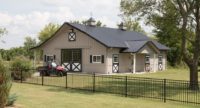 Stuff. Some of us spend a lot of time and energy organizing it, accumulating it, parsing it down, and storing it. And some of us don't always have enough places to store our stuff without taking up room in our houses we'd rather not take up! Well, storage garages are an option, because when you think about the cost of renting a storage unit, as well as the added time and energy required to travel to and from the storage unit rental, buying a storage garage seems relatively not bad. At least if you have space to build it.
Here we have a metal storage garage. Metal buildings are an option for these types of construction projects that can cut down on time and cost. They're also noted for the ability to take them down or transport them relatively easily. Metal buildings have a number of benefits over other buildings (click here to read about them).
Some more information about this metal building:
Project Number: B070025741
Location: Bixby, OK
Dimensions: 36'W x 10'H x 48'L
This storage building was built for Bob & Linda in Bixby, OK
Special Features:
Morton's Hi-Rib Steel
Cupolas
Porches
Double Dutch Doors
Diamond 'M' Sliding Doors
AlumaSteel Sliding Doors
Loft Door
Wainscot
Windows w/ Shutters
Thermax Roof Insulation
Find more from Morton steel buildings, and the metal and steel design and build companies we've indexed in our Home Designers and Builders Directory. You can search the company's name and look builders near your area. And to see more metal homes, click here.
1985 total views, 0 today