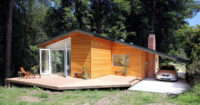 Builders and designers work with a team to make stable and valuable housing projects because they know that homes are significant to people's well being. A home is where dwellers find their own identity and it's a territory where they have control over everything they have in life.
Here is a cabin that's been transformed into a modern home, and seeing the living room, it is exceptionally spacious and you can't believe that it's a tiny home. The dining room has enough space for the whole family to sit and enjoy their meals. Who would think that this used to be a plain, aluminium-sided farmstead?
Great thanks to San Francisco Architecture and Design Firm Design Blitz. This firm transformed this and it really looks entirely altered and it looks so gorgeous now. It is originally a 500-square-foot structure owned by the Horton family since it was built in 1942 as a holiday home. When the Horton family thought to make the house their full residential space, they needed a house remodelling.
Hence, the team of Design Blitz remodelled the 500-square-foot addition. Its remodelling budget is really reasonable for it only costs around $200 per square foot. Imagine this house transformation necessitated a broad work which included reframing the old original house.
After just about 75 years, the Hortons' abode stood very beautifully and the entire new exterior within a rustic creek bounded by California redwoods, it is evident that the altered house is exceptionally stunning. The aluminium framing is absolutely lovely and its and cedar siding amid added contemporary style carries a new spirit to its interiors. Guests can also notify the unique openings beneath the extension. This transformed cabin is really an awesome remodelling project! To see more of Design Blitzsf's work, find them in our Prefab and Modular Home Designers and Builders Directory (click here).
4679 total views, 0 today