The tiny house experience is exploding around the globe and every day people are finding different uses for these gorgeous little, but fully equipped, tiny homes. Airbnb is an innovative company in its own rights to think of the idea of renting real homes and cabins as vacation spots. It works out great for the vacationer and the home owner. We are still in the midst of hot summer weather and many people are still wondering where to go as a nice luxurious getaway. We will show you 10 Airbnb homes on some of the most beautiful beaches in the world, to inspire your fabulous summer getaway.
1. The Malibu Dream Airstream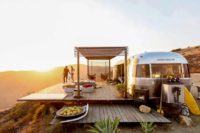 Malibu, California has one of the most beautiful beaches and natural scenery in the world, and this Airstream tiny dwelling fits perfectly against this gorgeous backdrop. The Airstream camper comes equipped with all you need to enjoy a fabulous vacation. It even comes with a large deck for bbq beach parties or just for enjoying each other to watch the sunset.
2. Small Cottage in Norway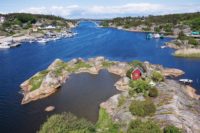 This charming small cottage house in Norway does not just come with a beautiful beach but instead comes with that and its own lovely green island. You will feel like a star during this getaway, taking in the quiet and peace of a Norwegian island, while enjoying all the amenities that comes with this quaint tiny home in Vesteroy, Ostfold, Norway.
3. A Bamboo Treehouse in Fern Forest, Hawaii
This tiny home fulfills two dreams, one is to visit the beautiful state of Hawaii, but to also do it by living in a treehouse tiny home. Hawaii is well-known for its beautiful waters and friendly open people and atmosphere. What a spectacular getaway, to stay in this tiny treehouse in one of America's most beautiful states.
4. Tiny Home in the Philippine Islands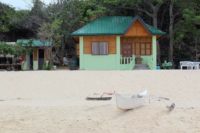 The Philippine Islands is known for its fantasy scenery and this lovely and quaint tiny home fits right in with the backdrop. You will feel as if you have left all your cares at home and are now experiencing, at least for a few days, a carefree and beautiful getaway.
5. Carolina Beach, NC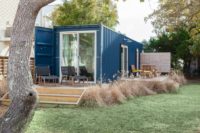 This cute tiny house brings us back to the States to North Carolina, one of the country's friendliest states, with all of its natural southern hospitality. You can stay and enjoy Carolina Beach, the delicious food that is in the area, because most Carolinians love to cook and share. The home itself is wonderful for a quiet vacation weekend.
6. Bird Island, Placencia, Belize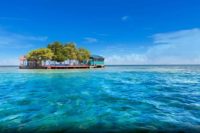 Belize is becoming more popular these days as a vacation spot and also a place for expats to get away from the busy life. If you're not ready to be an expat of the U.S. or the U.K. then a vacation should be enough to inspire and energize you. Do you see that water? It is remarkably clear and glistening. You will feel as if you are in paradise.
7. An Eco-lodge in Popa Island, Panama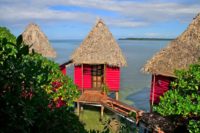 This lovely community of eco-lodges on Popa Island, Panama, is a spectacular site. Not only do you get to enjoy the sparkling beaches but you may meet some great people along the way. These tiny homes sit right in the water and you will feel as if you've found an oasis of your every own.
8. Tiny Home in Cape May, NJ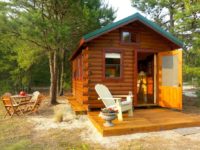 Cape May brings back a lot of memories for those who grew up in this area. Now, more people are discovering its beauty as a vacation getaway for themselves and their families. If you want to be reminded of childhood walks on the beach and locals gathering for bbqs and picnics, then Cape May is your place. This lovely home is reminiscent of an old log cabin.
9. Mt. Martha, Victoria, Australia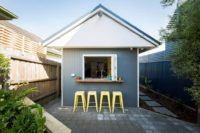 Equipped with your own outdoor bar area, this tiny home in Victoria, Australia is the perfect vacation area for those who love clean and brilliant sandy beaches and a bit of that Aussie hospitality. The home is equipped with the right amenities and most importantly, sits near the beach where you can get your tan while having some peace and quiet as well.
10. Balmain, New South Wales, Australia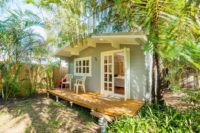 We end this list with another beautiful place in Australia, but this time it is in Balmain, located in New South Wales. This tucked-away tiny house is glorious. It makes you feel as if you are in an old classic film. And again, Australian beaches are hard to compare. They are still not overcrowded and the water is as pristine as ever. Enjoy any of these tiny home beach getaways if you can. It is a wonderful and rare experience.
Source: 21 Tiny Airbnb Houses on Beautiful Beaches
Photo Credit: PopSugar