We've been highlighting many prefab and modular tiny homes here recently, and here is another fascinating tiny house. It is a 224 foot Cider Box Tiny House. It is remarkably crafted by the Shelter Wise design team. They created this kind of tiny house to meet the needs of a client who wanted a lovely tiny abode for full-time living.
Hence, the team thought of creating an ecological micro home. The main floor measures 162 square feet and an additional space of 62 square feet is intended for sleeping in the loft level.
This cider tiny box home is about 22 feet long, 8.5 feet wide and 13.5 feet high. It is indeed cute and adorable because it is on wheels. It's actually planned to be fabricated onto a heavy duty trailer.
Inside this delightful micro home, there is a functional kitchen that is good for food preparation and cooking, a washer/dryer combo unit, a lot of crafty storage to keep stuff orderly and neat, and of course a full bathroom for daily hygiene.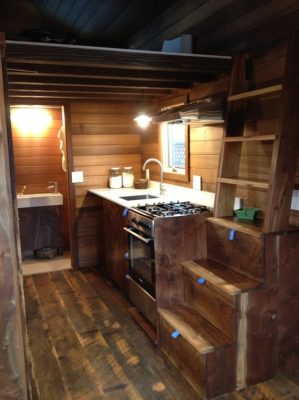 Such a tiny home is comfortable enough for young couples and small families. It is charmingly designed to meet the needs of families who want to have a space called 'home sweet home.' The builder has customizable options provided for clients who would want a cider tiny home. It can be rustic or modern and home buyers have the choice which type of cider house fits their needs. And whether it is a rustic or a modern one, it can accommodate basic home essentials such as a serviceable kitchen, a bathroom and a loft for comfortable sleep. To see more of Shelter Wise's work, find them in the Building Homes and Living directory.