Lots of lovely hand-crafted details in this self-built tiny house. DIY tiny houses are something almost everyone is curious about when they hear of it. In this case, the DIY job involved the owner, who designed the tiny house, her friend who is a carpenter, and the carpenter's apprentice.
This tiny house sits on Salt Spring Island (off of Vancouver Island), British Columbia. It's 168 square feet in area plus a 64 square foot loft, and in addition to that there's a porch.
Did you notice from the photo? The porch is made from pallets. 8X8 pallets. That means they can disassemble the porch and move it if they want to (or, I might guess, start again with more pallets if necessary).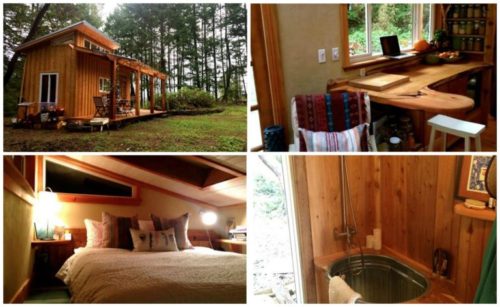 This 22 foot long tiny house belongs to Rebecca Grim, who is a yoga instructor on the West Coast, and the tiny house has been referred to as the "Keva Tiny House." Grim has blogged about the tiny house, calling it "smallish living on Salt Spring Island." For more tiny homes, find them in the Building Homes and Living directory.