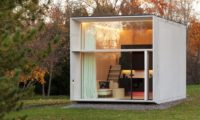 Technology never ceases to amaze us, but you may still find yourself surprised when you learn of this chic tiny home. It is the perfect combination of technology, style, and architecture. It is so clean and efficient you will find it hard to believe it's ready for you to move in right now! The Koda is a home that can move where you move. It is built to protect its inhabitants from the elements and bacteria outdoors. It has style that is versatile enough to meet a variety of uses, and the size of the windows alone are a reason to fall in love.
Tiny homes have huge potential and typically they come with some really unique features. So what makes the Koda stand out among the rest? The health benefits seem to be the most unique feature of this tiny home. No need to carry those over priced seasonal allergy medications. The Koda has been built with a sturdy door and vacuum-insulated concrete walls to keep noise, dirt, bacteria, and environmental factors outside. Inside you will be able to control the strength and tone of your lighting. Also the Koda will keep the humidity in your home at the correct levels. Like many tiny homes, the Koda also utilizes eco-friendly technology such as LED lights and solar panels. It is a good choice for those of us looking to leave in a clean, comfortable, with a small carbon footprint.
The design mission by the makers of Koda was to provide a home in which residents could move wherever they pleased. This means that the assembly and disassembly is made simple, and only estimated to take four to seven hours.
If you wanted to rotate your Koda for a better view the process would be even faster. My personal favorite element of this tiny home is the ability to make it whatever you want. The design build was anticipating several uses for the structure. Office space, vacation spot, primary residence, gallery, or studio could all be possible uses of this tiny eco-friendly space. This tiny home is a fresh, clean space that will provide the worry free environment you need to focus on the things you love.
By Alison LaPaglia
For more information on the Koda, find them in our tiny home directory.

85841 total views, 1 today