The Tiny House Revolution has taken the world by storm as an uncluttered alternative to traditional living. More and more people are looking to make their lives more simple and to down-size from large to small. Enter the Tiny House. Without giving up anything in the way of comfort, lots of folks are finding tiny living a happy change from living in a big home.
The kitchen area of any home is usually the hub of activity, the place people hang out and chat and joke while food is being prepared. And so it is with the tiny house kitchen area. And here are some examples of the typical tiny house kitchen – both convenient and elegant.
(All images courtesy of Pinterest)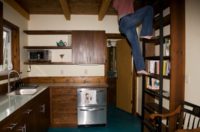 This beautiful tiny kitchen is the epitome of space efficiency, with everything a cook could possibly want or need to make a scrumptious meal. And you will notice the handy book shelves where favorite cookbooks could be kept. With stainless steel appliances, this is a kitchen whose maintenance is quick and easy.
This lovely, warm and rustic tiny house kitchen is inside a tiny house log cabin. Wood is such an inviting material, and this kitchen is a perfect example of cozy and efficient. And the experience in this tiny house kitchen is one of spaciousness as opposed to feeling cramped.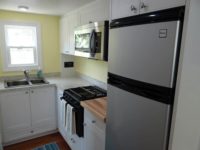 This tiny house kitchen is a wonderful example of the sleek, modern style with all the conveniences of a large kitchen. With a double sink, stainless steel fridge, and gas stove this is a design that is both elegant and efficient.
Butcher block counter tops are featured in this tiny house kitchen, and the effect is a wonderful combination of rustic and traditional. Not lacking any modern convenience, this kitchen shows you how much can be done in a tiny space.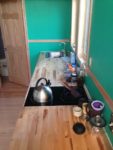 Color and clean lines are what make this tiny house kitchen so inviting. Wooden counter tops add charm and texture.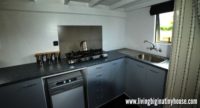 This tiny house kitchen is another example of how a modern color palette and a sleek style does not have to dwarf an already small space. On the contrary, this  kitchen gives the feeling of being spacious and open.