No one needs to share the news that the tiny house has become extremely popular due to its level of creativity and economics. You can make a tiny house out of just about anything these days, and this is another reason why they have become so popular. There are a multitude of tiny houses built solely from salvaged materials. So it would make sense that there would soon be communities full of tiny houses. All over the world there are tiny house communities, some have a main house where everyone shares the kitchen and showers, and often the WiFi. Here we share tiny house communities where all the residents have decided to take advantage of this new trend, which is a trend that is not going anywhere.
From Washington, DC, America's capital, to Portland, Oregon, there are tiny house communities where the residents act as a huge family by helping each other with food, cooking, communal showers and WiFi sharing. In these communities there are also people who are the DIY crew that assist in keeping everything working and also act as help when other tiny house dwellers want to add-on or change the construction of their house. For example, Some tiny homes in a community are not built as mobile homes and then choose to become mobile. And it also works the other way around. Some dwellers in a community begin their tiny house lives wanting the freedom to move around and then enter a community they love and decide to stay. Either way, tiny house communities are a great way to live because you always have the support of others who know exactly what the pros and cons are of tiny house dwellers.
Below is a list of a tiny house communities and an eclectic tiny house hotel. We hope to inspire you, if living in a tiny house and/or a tiny house community is a dream of yours.
Boneyard Studios in Washington, D.C.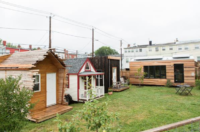 Boneyard Studios in D.C. are proving that a tiny house community can exist in an urban environment. This community now acts as a model of what this type of community could be in an urban setting.
Community First, in Austin, Texas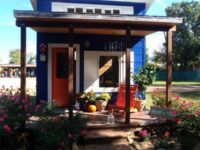 Community First is a part of what is being called Tiny Austin. The people in Austin, Texas have embraced the tiny house lifestyle and they know how this type of living can assist us in becoming a green planet again. Community First is 27 aces of tiny houses, mobile homes, and RV living.
Quixote Village, Mt. Olympia, Washington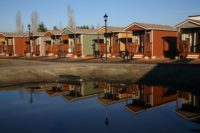 Mt. Olympia is a beautiful area of the States and a perfect place for a tiny house community. Quixote Village used to be a group of self-governed tiny house dwellers. Now it consists of 30 homes, a communal space with showers and a community garden.
Caravan Tiny House Hotel in Portland, Oregon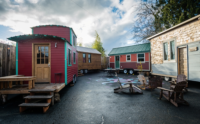 Portland, Oregon, the "keep Portland Weird" town has fully embraced the tiny house community. Caravan Tiny House Hotel is a gorgeous community of rentals One purpose of this community of rentals is to show others what tiny house living could be like if they chose to live that way permanently.
Second Wind in Ithaca, NY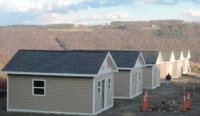 Second Wind is a growing tiny house village that was designed by Carmen Guidi. The motivation was to help the homeless. Volunteers built  a group of six tiny homes and shortly afterwards, the residents moved in. This was in 2014. Second Wind is seeking to expand the village as they continue to receive funding.