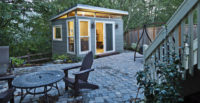 Prefab home entusiasts, you might already thinking small. Downsizing is something a lot of people do in order to simplify their life and reduce the amount of bulk and maintenance they have to do with their home and possessions. So this might be something you could consider. These prefab sheds are around $10,600, which makes them somewhat affordable, and they can provide shelter and a bit of style to a new prefab tiny home owner.
Prefab homes come in a wide range of sizes and purposes: guest houses, studio buildings, work spaces — these are typically smaller and without all the amenities usually found in a larger house. But some people like this sort of life, because of the price and simplicity. They can add amenities in various ways. They don't all have to be from the home appliances store. Some can be from the outdoors store or from garage sales. For example, a kitchen can be four large appliances from the home and garden store, or it can be an icebox and a propane cook stove. There is a range of options to explore, particularly if on a budget and if you're working with a small space.
"The 10×12 Modern Studio Shed is the perfect solution for having an office or studio space outside the home," according to the company.
One of the things about these prefab buildings is that, while small and often used as sheds, guest houses, studio spaces, work spaces, they have a nice finished appearance from the outside.
"The kit comes in a series of parts ready to assemble, with all the materials included to finish the structure inside and out. Designed with contemporary finishes, and built with materials that will last."
For more info on Modern Shed, find them in our directory.

937 total views, 0 today