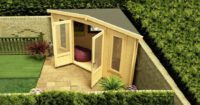 Today we're going to look at some of the interesting shed ideas people have come up with over the years. I'd probably bet that, if this is your first time visiting this page, some of these are ideas you haven't even thought of before. They were for me, and that's why I put them together here for you. Others were just nicely done sheds I thought you might like to see, especially if you're considering buying or building your own shed these days.
The first one I want to mention is the triangular garden shed. This shed was thought up because not everyone has a lot of space in their back yard. They also might not even need that much shed space. So one option is to just take a corner of a yard and put one of these little guys in. I've only seen these types of sheds sold from one place, which is called Dunster House. They're a UK company that does a lot of sheds and garden offices — that sort of thing. They were selling these for around $1150, but they're "currently unavailable." If they come available again, I'll update this. But does it matter. The idea might be enough, if this is something you might want to build in your yard.
Another option if you just need a small shed is to build a tiny square shed. A mean about as small as you could go. As wide as a door. Actually, there are a number of these sheds out there made just out of old doors. Some have peaked roofs like this one. Some are double wide, some just one door's length on each side.
Now for something a little bigger: this shed is called "the Roost" and it appears quite different from most sheds you might have seen. It has that curved roof, which some think makes a structure appear bigger and more spacious. This "garden studio" is a LEED-certified one, and was designed by Martin Liefhebber of Breathe Architects.
The fourth shed I'll mention is a garden office by the same company that did the triangular shed, Dunster House. They have quite a lot of models for these garden sheds, which could actually be tiny houses as well — or prefab modular houses. These aren't cheap, though. They market them for $12,800 dollars. Actually, if you're using it as a house, that isn't expensive either, but of course you wouldn't have amenities like a bathroom or kitchen.
Which one of these would you put in your yard?
3921 total views, 1 today