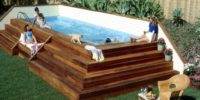 This is something prefab home buyers might be interested in, because a lot of these above ground pools can be ordered prefabricated. Not only that, some people are even building pools out of shipping containers, which is one of the most popular prefab building materials.
In the case of the picture above, the swimming pool we found comes as a building plan from Stevenson Projects, who are perhaps best specialized in boat building plans (sailboats, rowboats, etc), but who also do plans for vehicles, toy cars, sail cars, and this interesting-looking swimming pool.
Theirs is an above-ground lap swimming pool, which can be built quickly. The backyard pool is designed with a pump and filter system to be completely self-contained. It also includes plans for a solar cover system.
The stepped decking you see in the picture above adds strength to the structure. The picture shows a pool designed to fit into the left-hand corner of a back yard, but the plans can be flipped to fit a swimming pool into the opposite corner.
The pool dimensions in the building plans are 8X27.3 feet. The area needed to build the pool is 16X34 feet (the decking and walls are bigger than the pool, obviously). Stevenson Projects sells their swimming pool plan for $25 US (click here to visit them).
Now, about shipping container pools. We wrote about a fellow who converted a used shipping container (22X7 feet) into a swimming pool in his back yard. He called it the "pool box". (Read about it here). He lined the pool with shielding foam, and enclosed the exterior with lumber (basically clad the exterior of the pool with 2X4s and added a few feet of decking on each side).
Here's the shipping container construction pool:
10381 total views, 2 today