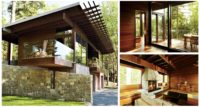 A while ago we took a look at the prefab houses Frank Lloyd Wright did. FLW was interested in such a wide variety of building styles. He certainly was interested in mass production, embodied today in the modular home and prefabricated building movements.
What we're looking at in these photos is a decent-sized house designed by SPAN Architecture. It's set in the countryside in Maine, as you can see, and the design relies heavily on the landscape for inspiration and cues, according to the designers.
Some notable features of this house design: Locally quarried stone foundation, zinc-coated copper roof,
"It's in the spirit of Frank Lloyd Wright," New York's SPAN Architecture principal Karen Stonely, who worked on this building with Peter Pelsinski, said of the house's holistic design program. "You're experiencing it for its space, but you're also touching every little element of it all the time."
"We talked a lot about the idea of being on a campsite. Everything is very functional; everything can be made into something else."
For more of SPAN's work, find them in our directory of house derringers and builders.

8838 total views, 1 today