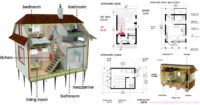 Are you on a DIY high and ready for your next challenge? Forget the crafts, furniture, or decorative figurines. Its time to challenge yourself with a tiny house project! Pin Up Houses is a company that provides you with step by step directions to build your very own tiny home! So, if you don't know where to start or what to buy, you're covered! There are several plans for you to choose from that can reflect your personal style. I have chosen 5 plans to fit five different uses to show you that tiny homes are not just for downsizing.
Plan 1: The Lookout.
For the little minions in your life. Video games, television, and technology seem to be taking over many childhoods these days. Many parents or relatives are finding it difficult to get their kids outside for playtime. The Lookout is a great solution to this problem, and a wonderful fit for a curious child. At $690.00 it's designed to be a tree-house without the tree. The difficulty of the build is 2 out of 5 which is good news for any beginners out there! Six feet off the ground with a stair case. No need to worry about kids falling from a flimsy ladder. From top to bottom it stands 15 feet tall and has two windows for a nice view. Inside you will find a 48 sqft open area, perfect for a table and a few chairs, or maybe a cool rug and a some bean bags. The house will be supported by four beams and a roof that provides over hang, so there is a good amount of covered space for all the outdoor toys currently taking up your garage. Keep the wood exposed and embrace the tree-house style, or paint and provide a personalized hideaway for your little one! Once you are done it will definitely be a 'brag-worthy' piece for your kids!
Plan 2: Irish
Give him the man cave of his dreams and take back your living room! This tiny home is 55 sqft of potential freedom. Let's be honest, you can't make his xbox look stylish and one television is not going to play both your shows. So, here is the space he can have to hang all the mismatched decorations and catch his favorite games. The Irish is styled to mimic the design of an Irish pub, hence the name. He can build it himself regardless of his talents because it's difficulty is only 1 out 5. At $770.00 it's a good choice for a duel gift (worth two occasions), or you can simply remember that you have probably spent more money on the furniture in your home. The structure stands 11ft tall from top to bottom and has a window on each of the four walls to bring in natural light. Inside you could furnish with a small couch or two recliners. If the man who is getting a cave is not interested in electronics, you could use the space as a mini bar with seating, or a small library with all his favorite books!
Plan 3: Alexis
This tiny home is the perfect getaway spot! It is a great choice for a summer home, lake house, or weekend getaway in mountains. This build is more expensive at $9,500.00 , but it is also larger with 394 sqft and a 54 sqft loft. Its a more difficult build with a 3 out of 5 rating, but with your step by step instructions from Pin Up Houses it can still be done! The A-frame structure creates a unique space with an eye catching exterior. Inside you will find a large open space filled with natural light from the large front window. Towards the back of the home there is a small kitchen, bathroom, and a ladder that accesses the loft upstairs. The low ceiling on the sides due to the A-frame design are a great opportunity for extra storage. This means all your vacation accessories such as kayaks, dirt bikes, or  outdoor gear can be safely stored away. The front and back porch both have coverage from the roof which can provide outdoor seating or more storage. The home stands tall at 15 feet and 9 inches with a front window to match. This gives a great view from the loft as well as the downstairs. Place this tiny home a top a mountain or on a waterfront property, and you will have a view that makes it hard to go back home!
Plan 4: Mae
Here's one for the workaholics out there! A tiny home office to get you a little closer to your own front door. For $1,400.00 you can put this 10 ft tall tiny home in your backyard to avoid your office on the weekends and get home in time for dinner. If the house is noisy and unproductive, and the office is chilly and suffocating, why stay? Make a warm and productive work environment for yourself. This house has plenty of windows so you won't have to feel like an office shut in. There is 102 sq ft of space  for you to spread out with a large desk and organize all of your important paperwork. A one room house to keep you focused on your work. If you are not an office body and more on the creative side consider this as studio space. The difficulty level on this project is only a 1 out of 5 so anyone regardless of occupation can get this job done! Get creative and get work done in your own private backyard office!
Plan 5: Joi
Get that extra storage space without paying monthly for it. Storage units these days can costs upwards of $100.00 a month, but building a Joi in your backyard will be one payment of $280.00. This unique shaped shed will give you the storage you need without a high demand of backyard space. It is very small at only 20 sq ft. You can lock up your bike, garden tools, plastic bins filled with items that no longer fit in your house, or anything else in this tiny shed! Standing over six feet tall and a little more than 3 feet wide, you will have just enough space to put things away. Shelving on the exterior can provide more space or an opportunity to create a decorative element to the shed. It is an easy build at 1 out 5 rating for difficulty. Just paint this project to match your home and you're done! Say goodbye to clutter and hello to your new tiny shed!
By Alison LaPaglia
For more information on Pin Up Houses plans, find them in our tiny home directory
19106 total views, 4 today