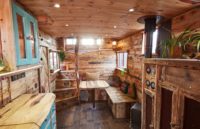 Very very proud to present the long awaited Helga in all her finished glory. For those that are new to our page, when Helga first arrived she was still very much a horse-box (complete with hay and poo!) We fully stripped the box, planed the timber back and blasted and repainted the frame. With the addition of lots of engineering and customisations, we built her back up from scratch and added heaps of off-grid wizardry behind the scenes so that her owners can truly be home, wherever in the world they choose to park up.
Special thanks to Simon and Gemma who have literally been an absolute dream to work with on this project, and their eye for style and design has spoilt us with fresh ideas and inspiration for this build. We hope you both enjoy having her as much as we've enjoyed building her for you. Thanks also to all our suppliers and friends who all too often go above and beyond to help us facilitate this crazy thing that we somehow have managed to carve a living out of doing.
Finally massive love and thanks to our old friend and photographic genius Will Bunce, who has managed to really capture and document Helga in a fashion that does her justice (www.willbunce.com) and we also had a blast having him over last Saturday for the shoot (hangover has just about subsided!)
Also there will be a full (and well made!) video tour coming soon as we were lucky enough to have a visit from The Indie Projects on Sunday so are really looking forward to seeing what they come up with. There's a little trailer for the full tour available here…
We have no less than 3 new conversions about to begin at our workshop near Glastonbury so stay locked to witness the process we go through on here, on our new instagram (@houseboxhousebox) and also on our (in much need of an update) website (www.house-box.co.uk) Exciting times! Finally a big thanks to everyone who takes the time to look at, 'like' and share what we do with the people they know. It's truly humbling for us that so many people seem to care what we get up to.
Hope you all enjoy the pics. Cheers now,
Dean, Jake and Zack House-Box
Check out the gallery of photos below (all images on our site are expandable, even the featured image at the top).
Find more from House Box and other tiny house builders and companies we've indexed in our Home Designers and Builders Directory. You can search the company's name and look builders near your area. And to see more tiny house,click here.
2553 total views, 1 today