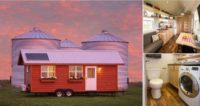 Imagine looking out your bedroom window at a different view every month, week, or if you want, every day, from a tiny house like this. Imagine being able to travel to, and live in any place with room to park. A large suburban home is a huge commitment, a luxury city loft is a huge cost, and a summer home is a seasonal enjoyment that comes at an extra expense. So save your money and don't feel pressured to choose one. Pick them all by getting the perfect tiny home!
The Vintage by Escape Homes is a farmhouse — or farm-tiny-house — on wheels. It is 315 sq ft of all your at home comforts with the obvious bonus that other homes can not offer. It can take you anywhere. It is built to withstand extreme weather conditions.
So it will not be a problem if you don't plan on moving south for the winter, or if you stay south for the summer. In the Vintage tiny house, you do not need to give up your full size fridge, queen bed, or storage space, as all of these luxuries are provided. No space is wasted, and with twelve windows there is plenty of natural light to make your home feel larger.
The style of this tiny house build allows you to customize your space. So for the individuals who wish to go green, you can choose solar power! All in all, you can get exactly what you want, and go exactly where you want for an introductory cost of $59,800.00. A much lower cost than a home. So to summarize, the tiny home will meet your needs, take you to new places, and not bust your bank account!
For more information on Escape Homes and the Vintage tiny home find them in our tiny home directory.

5294 total views, 2 today