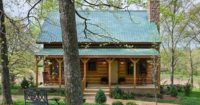 Purposeful minimalism is the soul of a rural way of life while contemporary log dwellings are competently fashioned with a crafty space-efficient scheme to make the most of out of small floor plans.
Family and individual home buyers have their own preferences when it comes to house sizes and designs. Great thanks to log homes builders for they have readily customized houses that answer each need and preference.
The Clayton Log Cabin by Honest Abe Log Homes can accommodate a family of 8. It is a two-story residence that has 1,726 square feet of flexible living space. The house has enough spaces for good sized bedrooms.
The house depicts an old-style style of historic abodes during the early settlement era. Even if it is fashioned with traditional home design, it is made with modern building materials.
The living area can fill the heart with joyous experiences with its big windows for ample daylight and during night, dwellers can spend some cozy chit chat with loved ones in the stone fireside. The house can fit a large family because it has enough spaces for good bedrooms.
This rustic style log cabin has gorgeous wood panelling and an elevated ceiling. It is finished with hardwood flooring boards. And because it is set in a countryside community, residents can fully take pleasure with all-year round fresh air plus distinctive smell of woods.
Indeed, The Clayton Log Home illustrates how classic design can be applied to modern architecture.
To see more of Honest Abe Log Homes , find them in our directory.
7467 total views, 13 today