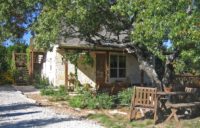 After taking a look at a house plan company called Texas Home Plans a while ago, we decided to also look into what they had on offer in the way of tiny homes and cabin designs, and what they had stands out from what most of the tiny houses we've featured here so far, so we thought we'd share some of their work.
#1 is the Hahn Cabin, a small two-story stone house in this case using pale colored stones that is topped with a metal roof.
#2 is the Haynes Cabin, a single story metal building with a metal roof that they have sitting on a stone walled porch.
#3 is the Amionetti Cabin, a tiny house built in the countryside. Here they used an almost bleached peach colored stone and a regularly shingled roof for the finish.
For more about Texas Home Plans, find them in our metal buildings directory. Their average price seems to have been estimated around $40 – $130 per square foot. Or to read more about their process when it comes to metal homes, tiny homes, or whatever else, click here.
10455 total views, 1 today