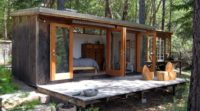 Look at the way that comfortable-looking bed opens out of those doors that border the interior and exterior space of this tiny house. Even some chainsaw furniture on the porch. This tiny home was built by an artist and his wife and won a "bedroom space award."
Can you see why? Looking at the way this tiny house harmonizes all the parts that are commonly squeezed (and sometimes appear squeezed) into a small structure. The artist behind this tiny house is Loren Madsen, an installation sculpture artist. You can see his work here (click here).
He and his wife designed and built this tiny home themselves in Laytonville, California on some foresty land.
The tiny house is a 640 square foot modified kit. There are no big extras on this, so its a kind of minimalist house.
Still though it has all the necessities for house living. That bedroom you see in the photo takes up most of the space. But it also has a kitchen and bath. Its also easier nowadays to fit in electronics "basics" like a TV and computer, which have gotten quite a bit more compact in recent years.
And you probably noticed the double-glazed doors on this tiny home. Nicely wood-framed. A simple but effective look, and they open out or look out on a slope of trees and bushes. Sometimes the couple even carries their bed outside and sits it on that porch you see, which is just big enough.
The construction of this tiny house — as I said undertaken by Loren and his wife themselves — is a basic 2×4 framed bedroom, which is added to the other area.
7289 total views, 0 today