This week we're interested in these gambrel garage buildings as houses. This one is called the Patriot, and as you can see from the photo it's a 1.5 story building that would make a nice small to medium sized home for any couple or small family. The .5 refers to the gambrel room upstairs, that maximizes your extra bedroom (or your own bedroom or rental suite).
Some people use these for workspaces, too, or for storage, but mainly we're interested in garage homes here, and looking at some of the photos of the beautifully finished and furnished interiors of people who've already built garage homes, we're sure these would make good houses for anyone. The garage buildings themselves can be sided with vinyl or wood to achieve the desired aesthetic look. The Patriot is built by The Barn Yard (we've indexed them in our directory).
Here's a list of this garage house (as we're thinking about it for our purposes, but you could use it as just a garage, too, or as a work location), with standard and custom feature options. You'll notice this garage house comes in a variety of size options, too, and you can even get overhead doors, which is really a useful feature for the second story. You can also combine these structures into extended garage homes, or build corridors between them. Click it to enlarge.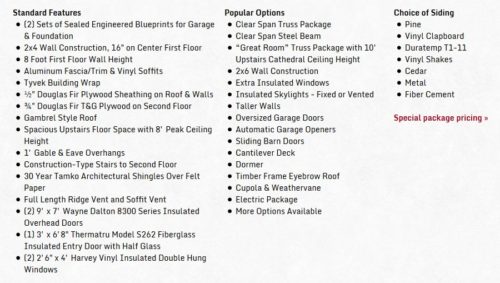 For more about the Patriot garage home / building and from The Barn Yard, find them in our directory of home builders, and for more barn homes, click here.