When it comes to building your own home, or looking around to buy a house, its always nice to hear what people who've bought one you're looking at have to say about their experience. Today we're looking more at wide span kit homes, which we looked at a bit a few months ago. They're an inexpensive option for people who want to build a house on a budget. Here's one testimonial from a couple who went the wide span kit home route with one of the companies we're looking at today:
"It was so much cheaper than us doing the whole bricks and mortar thing." She and her spouse went with one of the steel building options offered by Wide Span Sheds. They call these sheds, but they are not just one room metal flimsy buildings for storing tools. They are real, sturdy, livable and durable (they're steel construction) homes.
The pair went through the catalogue of home styles offered by their choice of companies, and said it was just perfect for what they need. They said this after they had it finished and were living in it. Although most companies offer a small selection of building styles, they're highly customizable. For example, the couple who bought a Homestead Kit Home added a bifold window between the patio and interior, as well as a second bathroom, moving the laundry room, and extending the patio. And they were all easy to do. They screwed the whole building together in only a couple of weeks and it was done. "If you want a home that is more than reasonably priced, get a wide span home." The option they bought costs $36,600 for 167 meters (182 total area), which is 548 feet. Here are the room dimensions for that one:
ROOM DIMENSIONS
Dining/Living/Kitchen
10.3 x 6.7m
Master Suite
3.6 x 3.5m
Bedroom 2
3.4 x 2.9m
Bedroom 3
3.3 x 2.9m
Bedroom 4 / Study
3.4 x 2.9m
They also offer a 2-bedroom 1-bath cabin house for $19,100 called the Cabin Kit Home, and a much larger 4 or 5 bedroom home (actually two styles, the Valley View for $55,600 and the Estate Kit for around the same). Note that these prices are Australian. The price in US dollars would be much lower. For example, the $36,000 4 bedroom home would be $24,860 US dollars. We'll show pictures here of the 4 various buildings.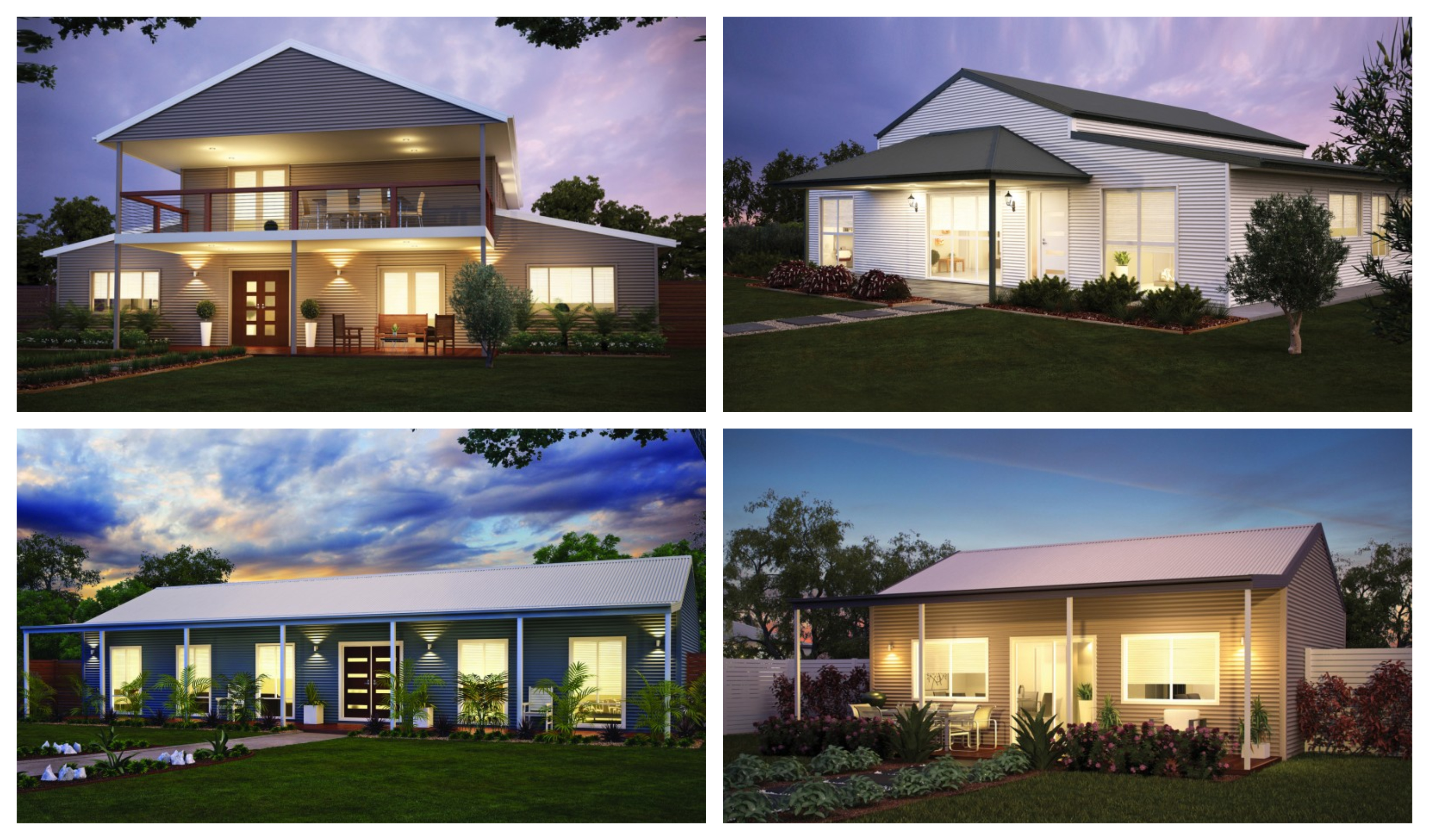 What about buying in the US? Yes, we featured the Aussie company today because we've already looked at some US ones, and the building styles and prices are very much the same. Wide Span Sheds had some nice examples to look at the range, though, as well as some good testimonials of actual customers, and that's what our readers want to know about, I think, more than anything. You can take that knowledge to your own local market where the prices are around the same. For example, we featured a $35k dollar American kit home here (click the link) a while ago, as well as some smaller, less expensive options.